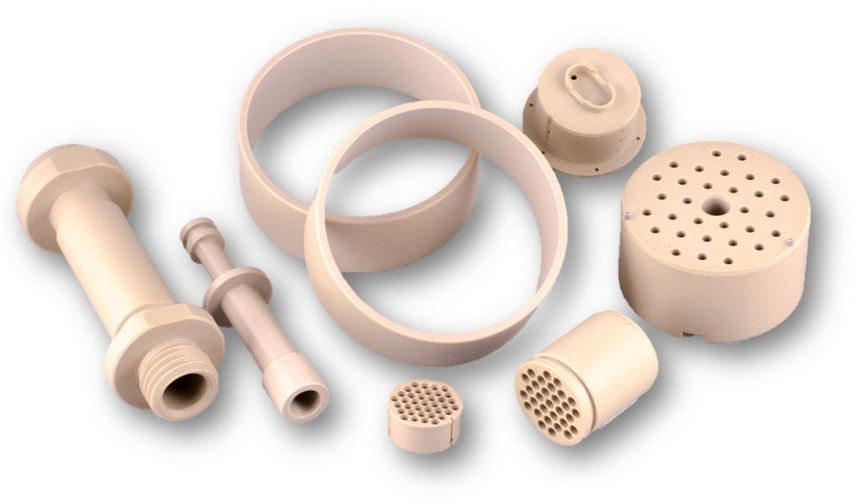 The Incredible Features Of PEEK As A Plastic Injection Molding Material
PEEK is considered a high-performance, highly-engineered thermoplastic material. PEEK is an abbreviation for the chemical name Poly-ether-ether-ketone. and PEEK is a member of the PAEK family (Poly-aryl-ether-ketone). PEEK materials are designed to operate at high temperatures up to 480 degrees Fahrenheit or 250 degrees Celsius continuously. this includes the ability to handle exposure to hot water and steam without a permanent loss of physical properties. with PEEK's average tensile strength value of 16K PSI and an average compressive strength value of 20K PSI. this means that PEEK offers a stronger and stiffer option compared to general engineered polymers like nylons, acetal (polyoxymethylene or POM), polyesters, and polycarbonates. PEEK's ability to handle temperature also equates to very good dimensional stability with a low coefficient of linear thermal expansion. a low CLTE combined with low moisture absorption means that PEEK offers the ability to hold tight tolerances in finished machined or injection molded parts. another benefit to PEEK is its excellent chemical resistance. this makes it a higher strength alternative to fluoropolymers in aggressive chemical environments. PEEK also carries a V-0 flammability rating and exhibits very low smoke and toxic gas emissions with exposure to flames. an added benefit for PEEK is its FDA compliance for food contact applications. there are also additional medical grades of PEEK available that come with biocompatibility certification for body contact or even permanent implantation into the body. this opens the door for its use in the pharmaceutical equipment industry and the medical device industry. 

How To Grade PEEK In Different Applications Of Plastic Injection Molding
The basic PEEK general purpose grade is unreinforced and offers the highest elongation and toughness for all the PEEK grades. unfilled PEEK is available in sheet, rod, tube, and even film. its natural color is a very light brown or tan color. PEEK is also readily available in black color as well. other custom colors require made-to-order minimum order quantities. filled grades of PEEK are also available. these filled grades offer improved performance for certain key applications. bearing grades with internal lubrication additives are available to lower the coefficient of friction, offering improved wear resistance and higher frictional heat capability. glass or carbon-filled grades offer improved strength, stiffness, and dimensional stability. PEEK is also available in static dissipative, metal detectable, and x-ray detectable grades as well. there are also other more exotic options available for customer-specific applications. PEEK is readily used in all major industries including food and beverage, pharmaceutical, medical, aerospace, defense, rotationally equipment(which also includes pumps, valves, and compressors), and industries such as oil and gas, semiconductor, alternative energy, automotive, and just about every other industrial high-tech market you can think of. 
MPI offers PEEK shapes available directly from stock in a wide range of resins, sizes, and processes. that include extrusion, injection molding, compression molding, spin casting, and even calendaring. depending on your application requirements, desired properties, part size, and volume, MPI can help match the right PEEK grade and process to optimize your part performance and material yields to eliminate excessive costs.