PLA Injection Molding – PLA Plastic Molds/Moulds & PLA Molded Parts
PLA (Polylactic Acid) is a type of natural polymer and hygroscopic thermoplastic that easy to absorb water from the atmosphere and widely used biodegradable plastic made of natural resources like corn starch. As a material that can be naturally broken down and constantly renewed, PLA is ideal to be used for PLA injection molding, extrusion, film, 3D printing, and almost all processes involving in the manufacture of thermoplastic components. PLA plastics can meet the needs of different industries to make PLA molded parts for a wide range of applications.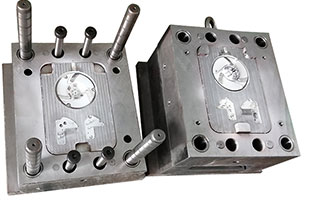 Benefits of PLA Plastics

– Can be completely degraded by microorganisms after use, no environmental pollution
– Good mechanical and physical properties
– Suitable for blow molding, melt processing, easy to process and widely used
– Great compatibility and degradability
– High glossiness and transparency
– Excellent tensile strength and ductility
– Air permeability and oxygen permeability
PLA Injection Molding – PLA Plastic Molds/Moulds & PLA Molded Parts
Polylactic acid is the only biodegradable plastic with excellent antibacterial and mildew resistant properties. Based on the outstanding characteristics of Polylactic acid, PLA injection molding is the most ideal choice for producing large-scale PLA plastic products with environmental protection and high-grade safety requirements, like the disposable transfusion device, drug packaging agent and more. With more than 13 years experience, Plasticinjiectionmould.com is engaged in providing plastic injection moulding services and molds design of a range of materials including PLA, ABS, Nylon, PVC and Polycarbonate. We offering PLA injection mold manufacturing, PLA molded parts inspection report, mass injection molding, rapid prototyping and detail list of molded components. The cavities, hot runner and other specifications of our PLA plastic molding will be carried out according to your drawings and prints. We are also pleased to assist you with molding designs, product design analysis, and other services.
Specification of Our PLA Plastic Injection Molding Service
PLA Molding Service:

PLA injection molds design, PLA molding parts & products.Surface Finishes: Polish, Gloss, Matte, etc.

Surface Finishes:

Polish, Gloss, Matte, etc.
PLA Injection Moulding Techniques:

Hot runner mold, Cold runner mold, Blow molding, Insert Molding, etc.

Color:

A large selection of single colors or mix colors available.
Application:

PLA molding service can be used to process PLA molded products food packaging, fast food lunch boxes, non-woven fabrics, industrial and civil fabrics from industry to civil use, agricultural fabric, health care fabric, dishcloth, sanitary products, outdoor UV resistant fabric, tent cloth, floor mat and so on. PLA moulding is also widely used in the field of medical, such as disposable infusion equipment, detachable surgical suture, low molecular polylactide as drug slow-release packaging agent, etc.
Benefits of Our PLA Plastic Injection Molding Service

– Long life time and healthy to use
– Multiple treatment based on your requirements
– The shortest possible delivery time
– Custom PLA plastic injection molding service
– A range of Mold Base Standard options
– One-stop service from quotation, order, design, manufacture, sample, to delivery.