PTFE Compression Molding (Teflon Injection Molding)
PTFE stands for polytetrafluoroethylene, also called teflon, which is known as the King of Plastic in polyethylene injection molding because of its corrosion resistance. It is the mostly used fluoroplastic currently and it takes up 60% of the total demand. PTFE (teflon) compression molding process has been one of the best and easiest choices to produce PTFE plastic products. With excellent properties, PTFE molds are extensively used in medical, electrical and mechanical fields for manufacturing PTFE parts.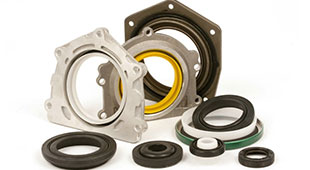 Features and Applications for PTFE
Dielectric.With its high radio frequencies, it is widely used in connector wires and cables for aerospace and computer and in printed circuit boards used at microwave frequencies.

Low friction.It can be used for plain bearings, gears, ski bindings, etc and more applications which requires high performance of anti-friction.
High resistivity.It is an suitable material for fabricating long-life electrets, the electrostatic analogues of permanent magnets.

High corrosion resistance.It makes PTFE popular in laboratory environment, such as container for acid or other corrosive chemicals.
Non-reactivity and high heat resistance.PTFE is often used as the liner in hose assemblies, expansion joints, and in industrial pipe lines (most popular one: teflon pipes), where it needs to be inert to maintain what it is. For its high temperature rating, it is commonly used in coating non-stick frying pans and other cookware.
EX MOULD CO., LIMITED is the China premier PTFE molded product manufacturer and PTFE Injection Molds company. For over 13 years, we have been providing quality and profitable PTFE injection moulding service which has led us to be a reliable supplier of custom PTFE Molding parts and products for the enterprises in a wide variety of industries.
Specification of Our PTFE Plastic Moulding Service
Main PTFE Mold Service:Custom PTFE plastic molds and PTFE molding parts

PTFE Molded Types:Premium Virgin PTFE, Modified PTFE
PTFE Molding Methods:PTFE Molding Methods:

PTFE Molded Color:White, black, and a large variety of different colored PTFE plastic molding parts can be manufactured
PTFE Molded Products & Applications:Bushings, Gears, Holders, Guides, Seals, Strainer, Lined & Jacketed Dip Pies, Nozzle Liners, Tubes, Plain Bearings, Gears, Slide Plates, Seals, Gaskets, Bushings etc.(in Aerospace, computer, electrostatic, aerospace industry)
Our advantages in PTFE injection molding- Established PTFE machining techniques in injection molding. Technical innovation is our first priority.
– High quality raw materials (PTFE resin particles, carbon, glass fibers, etc.) from stable suppliers in the PTFE injection molding procedure. Volume production with promised quality is available anytime.
– Skilled engineers to meet customized multiple requirements from customers. Free sample will be sent in advance for testing.
– Competitively priced products with years of innovation to ensure the best cost performance.